Incremental acetate titration by "addiing" fractional molar equivalents of HCl.
Instructions:
Start this animation by first clicking any button numerically labeled according to the fractional "total equivalents HCl" being added.
After waiting a few seconds for this animation to stop, click any other button to change the total equivalents of HCl" added.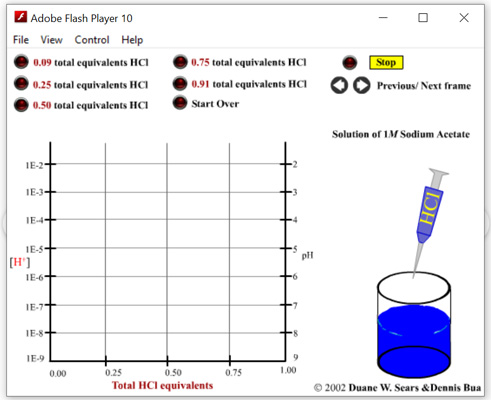 Questions about the equilibrium dissociation reaction, [HAc] <=>[H+] + [Ac-]:
Does the pH increase or decrease after the addition of HCl?
Which experimental parameter corresponds to Ya, the saturation fraction for this reaction?
Does Ya increase or decrease after the addtion of HCl?
In which direction does the equilibrium dissociation reaction shift when the pH increases?
What experimental value for Ya allows for the determination of pKd for this titration reaction?